Another Episode from our exciting Statim Autoclave Repair Series
Here is a note we recently received from a client:
"I replaced the seal on my Statim 2000 Monday the 9th of March. It had developed an intermittent whistle while heating. It stops whistling when the sterilizing temperature is reached.
The instrument packages show sterile at the end of the cycle. I replaced the seal partly because the old seal was whistling and partly because the old seal was leaking steam. The steam has subsided but the whistle remains.
What is a probable cause and what do I need to do to stop the intermittent whistle?
Any help would be appreciated."
We are glad you asked Jack. First, when you notice steam leaking from the cassette, lubricate or replace it immediately. Failure to get rid of the leak can cause major problems….not to mention your sterility can be compromised
While whistling can be an enjoyable thing…..whistling from your Statim Cassette can be a real annoyance….driving you & your staff absolutely crazy
Now let's find out why this is happening and how to fix it
Here is what we have found is happening in most cases: A piece of debris has gotten lodged inside the Venturi. What?
We will address what the Venturi does in a later article, but for now, just know that it is a constrictor.
The Venturi is located in the rear of the bottom half of the Statim Cassette as shown in the picture below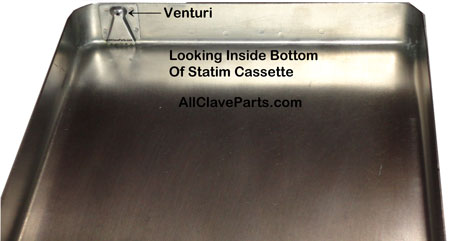 When debris gets lodged in the path of the Venturi, it can cause it to whistle (as well as result in other problems)
Here is a closer look at the Venturi Plate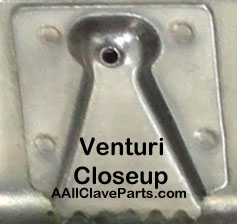 Thankfully, the fix is an easy one. Simply blow compressed air into the Venturi hole and throughout the plate (including the ports at the bottom of the plate)
Note: If you are a dentist, the syringe air in your operatory works well for this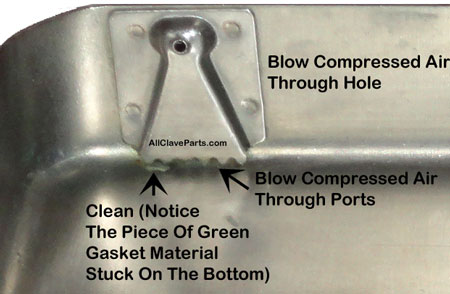 Also notice the piece of green gasket stuck below the Venturi plate in the picture above. This is a real example and the piece of gasket was actually baked onto the surface
Make sure to remove any debris and clean the area as well
That's it, you are done and problem is solved
One more thing: While you have the cassette out and apart, it is a good time to give it a thorough cleaning. While we do not get any promotional consideration for recommending it, we use "Bar Keeper's Friend" (Bon Ami works equally well) with a nylon scrub pad (made for cleaning Teflon).
It will make your Statim Cassette Look like new again!