Autoclave Fuses
In addition to the articles you find here, be sure to visit the troubleshooting section of AllClaveParts.com (Click here and simply select the Make & Model of your Autoclave) for autoclave repair help you can really use
Fuses are an important facet to troubleshooting autoclave problems. You need to understand what they do and you need to know how to select the right replacements
Fuses in your autoclave, like in any other electrical device, are there to protect your electronics from being damaged by things like electrical shorts and power surges
We frequently get calls about autoclave fuses. Where one or more have blown and the question is always can they get them locally instead of ordering them from us.
And some of the calls are from people who have already replaced the fuse with replacements they got locally, and are blown out shortly after installing them. This leads them to believe something is causing them to blow….like an electrical short somewhere within the autoclave.
While an electrical short is possible, in most cases the new ones are blowing because they replaced the old one with the wrong fuse
If fuses are all you need, then we do encourage you to buy them locally. By doing so, you can avoid the expensive shipping costs and the even more expensive downtime. But before buying a replacement, you need to know exactly which fuse you need
All of the fuses installed in autoclaves are marked on the silver ends telling what size they are. They will have markings like: 2A 250V.
This means the fuse is rated at 2 Amps and up to 250 Volts. So, going to any hardware store with this rating in hand, you will find what look like suitable replacements. And this is what most folks do.
And they invariably end up with the wrong fuse. But you think, all 2 amp, 250v fuses are the same….right?
Wrong!
What is missing is the fuses reaction time – that is, what happens (how long) before the fuse blows?
All fuses in your autoclave will have one or two letters in front of the amperage rating. These letters are extremely important and tell you what their reaction time is. Not matching the fuses with the proper reaction time is where everyone goes wrong. It is always good to look at the fuses location on the circuit board to make sure you get the right fuse.
If you can't find your fuses locally, then visit AllClaveParts to find what you need
Let's take a look at a Tuttnauer Power Supply Board
Sometimes the circuit boards will be marked with the correct amperage ratings and the letters as well as shown below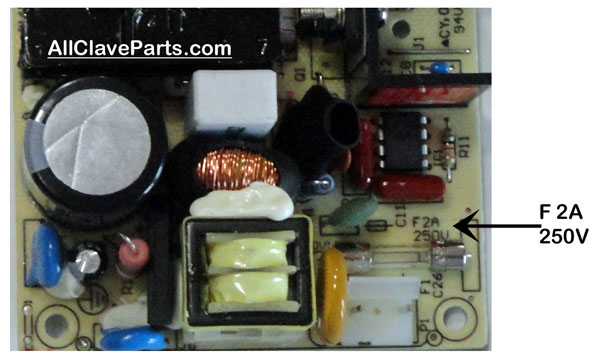 Let's take a look at what the readings on your fuse might look like. In this case, the Tuttnauer Power Supply Board is showing a rating of
F 2A 250V
Since we already know what the 2A, 2 50V means, the letter F should be our focus.
So what are these letters and what do they mean?
The first letter(s) (TT, T, M, F, FF) tell you what type of fuse it is and what you should be looking for
FF = Fast Fast. Very Quick Acting. (also known as Anti Surge)
F = Fast. Quick Acting (also known as Anti Surge). Typically open in less than 20 ms @ ten times the rated current
M = Medium. "Normal" or Very Short Delay (Typically open between 50 and 90 ms @ ten times the rated current)
T = Time. Time Delay or Slow Blow. Typically open between 100 and 300 ms @ ten times the rated current
TT = Time Time. Long Time Delay or Very Slow Blow.
So, if you were looking to replace the fuse in the Tuttnauer Power Supply Board shown above, you would be looking for a F 2A, 250V fuse: a Fast Acting, 2 Amp, 250 Volt fuse
Almost any electrical supply store in your area should have these fuses. Just make sure you know the reaction time (Letter) of the fuse you are replacing and the length of the fuse as well
Note: We have seen instances where people have simply replaced the fuses with ones with an increased size amperage rating to keep them from blowing.
This is something you should never do! You are putting your safety and your autoclave at risk
Years ago, when I was growing up, most homes had a fuse box instead of a circuit breaker (yes, I am that old). Everyone kept extra fuses on hand in case one or more failed. And that is still a good practice today for your autoclave.
The next time you place an order for autoclave repair or maintenance parts for your autoclave from us, order some extra fuses….and you will always be prepared!