We received the following question on a Tuttnauer 3870E Autoclave.
Tuttnauer 3870EA Autoclave- Getting A "Low Water" Warning
"I have a Tuttnauer 3870ea and when running cycle the chamber wont fill and it reads low water even though the unit is full, I have cleaned the water sensor and tryed to manually fill but won't work. Any suggestions?
Thank You"
And here is our response
Tuttnauer 3870EA LOW WATER Error Causes
Good Morning James
First, you did the right thing by cleaning the electrode inside the chamber. Often times, that is the problem.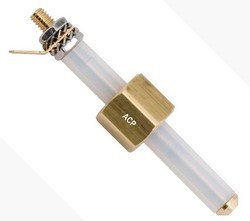 But if the electrode is faulty, no amount of cleaning will resolve the issue.
As the Water Fill Electrode is the most common cause of the LOW WATER Error on the Tuttnauer 3870EA Autoclave,, I do suspect this is your problem. Click here and follow the instructions on testing the Water Fill Electrode
What The Factory Service Manual Says Can Cause The LOW WATER Error on the Tuttnauer 3870EA Autoclave
Here are some other possible causes as outlined by the Tuttnauer Autoclave Factory Service :
LOW WATER
– This message will be displayed if during a normal Heat Up stage the system determines that there is insufficient water in the Chamber to complete the cycle. This determination is made by the combined input of two sensors, the Water Electrode and the Safety Thermostat.
Also if a power failure occurs during the Heat or Sterilization stage after the power returns the system will check the Water Electrode to see if there is sufficient water in the Chamber in order to resume the cycle. If not the cycle will be aborted, the message LOW WATER will be displayed, and the Cycle Fail indicator will light.
Possible causes for this message are:
a. Insufficient water entered the Chamber at the beginning of the cycle. Check for proper leveling, a dirty or shorted Water Sensing Electrode, a clogged water Pump, a partially clogged line or that the Air Outlet Valve is stuck closed
b. A leaky Solenoid Valve, Safety Valve, Air Jet, Door Gasket, Door Bellows or a pipe fitting is allowing water or steam to escape at a higher than normal rate.
c. A power down has occurred and on power up if the water Electrode tip is dry the Low Water message will be displayed
Problem With The Tuttnauer 3870EA Autoclave Resolved
As we originally suspected, the Tuttnauer Water Fill Electrode tested out as bad. James replaced it and it is once again running like new!
Note: While our answer is specific to this autoclave, the same error warning and solution applies to all Tuttnauer E Series Autoclaves, including:
1730 E, 1730EK, 2340E. 2340EA. 2340EK, 2340EKA, 2540E, 2540EA, 2540EH, 2540EHS, 2540EK, 2540EKA, 3870E, 3870EA, 3870EH, 3870EHS, EZ9, EZ10 and EZ10K
Click Here for even more Tuttnauer 3870EA troubleshooting guides, tips, and parts from AllClaveParts.com